Meet your Local Website Designer

My name is Keith Robinson, and I'm a website designer located in Chickamauga, North Georgia. I grew up in England and worked at a large financial organization for 14 years, spending much of that time at the drawing board planning office moves as well as visiting offices around the country and organizing refurbishment and internal building works. After 14 years I decided I wanted a change of scene – and besides, I was planning to move to the USA and wanted a business of my own that I could take with me.
In September 1999 I left to start my own small business as a consultant planner using computer aided drawing (CAD) software. I also made a living designing colorful 3D office location maps, because offices in England are hard to find and staff are always having to fax directions to their clients! There doesn't seem to be so much demand for them here in Georgia.
By Christmas 1999 I was already expanding into web design work. I started out this career using Macromedia Flash and, at the time, was only able to create animations – kind of a backward approach to web design! But I got involved with HTML and quickly discovered that Dreamweaver and other "drag-n-drop" web-building programs were, for me, an ugly way to create sites. They generate messy code, and I much prefer to write the HTML code directly.
In May 2001 I moved to Chickamauga, Georgia, with my wife (who grew up here). The move meant saying goodbye to most of my English clients because they preferred to deal with someone more local, so since then I've been rebuilding my client list. You can find all my websites listed on my Website Portfolio page.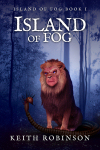 Island of Fog
by fantasy author
Keith Robinson
I have various personal sites too. In my spare time I'm a writer, and in April 2009 I started my Island of Fog fantasy series aimed at children and young adults. More about my writing activities can be found on blog at Unearthly Tales.
I also collect old children's books from the 1940s-1960s. I have an author fansite which generates a lot of traffic: Enid Blyton was a hugely successful author with around 1445 books to her name (about 184 are novels and the rest are compilations of short stories, plays and poems totalling about 5700). Folks in the USA may not have heard her (somehow she never really made it over here), but she was translated into around 70 different languages around the world and was most prolific children's author during the 1940s-1960s, when she wrote all the popular series like The Famous Five, The Secret Seven, The Mystery and Adventure Series, and the school series Malory Towers and St. Clare's... Oh, and Noddy of Toyland, which is now made and broadcast in America. She died in 1968, but 2 million copies of her Famous Five books still sell every year. Whew!
I'm proud to say that I've achieved top search engine rankings with my Enid Blyton website. If you google "enid blyton" you'll see my site, EnidBlyton.net, on the first page, along with the official author website The Enid Blyton Society, for which I'm the designer and webmaster.
If you would like a quote for website design and web hosting, please telephone (423) 240-3751 or email me at info@whiteoakdesign.com.
Call us today
to get started!
Phone (423) 240-3751 or email info@whiteoakdesign.com